Visiting Filmmakers
It is important for students to hear from as many different documentary filmmakers as possible during their two year program. Thus, each year the Institute brings a variety of producers and directors to campus. These filmmakers not only share their experiences and philosophies, they also meet with students on an individual basis to discuss their thesis projects.
Yance Ford

Yance Ford is responsible for coordinating all aspects of P.O.V.'s annual call for entries, a process that yields upwards of 1000 submissions from independent filmmakers around the world. Ford also serves as a programming consultant for many festivals nationwide including the Sundance Film Festival and the Full Frame Documentary Film Festival. She has also worked as a production manager for Discovery Health and the History Channel.
Peter Gilbert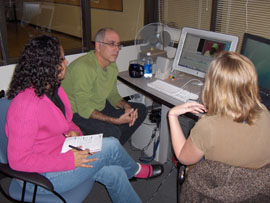 Peter Gilbert meets with Sarah and Jolene to discuss their film
Scouting for Allah
.
Peter Gilbert co-produced and shot the 1994 hit
Hoop Dreams
, a film that revolutionized the documentary scene. Since his
Hoop Dreams
' success, Gilbert has gone on to produce, photograph and direct documentaries, feature films, commercials, and music videos. In 2004, he premiered
With All Deliberate Speed
, the first work in the new series "Discovery Docs," which he co-founded with the Discovery Network. He also recently produced
Scattered: The Lost Boys of Sudan
(2005); executive produced the award-winning
Deadline
(2004), broadcast as a prime-time feature documentary on
NBC
; and produced and directed
A Time for Dancing
(2003). His earlier work includes
All the Rage
(1999); the Emmy Award-winning documentary
Vietnam, Long Time Coming
(1998),
Prefontaine
(1997), as cinematographer and co-producer;
Stevie
(2002), as co-cinematographer and co-producer; and
Married in America
(2002), as principal photographer. He is a partner in Foreground Films, in New York; a director with Nonfiction Spots, in Los Angeles; and an associate of Kartemquin Films, in Chicago.
Rachel Grady
Rachel Grady is the co-founder of Loki Films, a New York-based documentary film production company. Grady and Loki co-founder Heidi Ewing were nominated for an Academy Award for best documentary feature for Jesus Camp, a candid look at Pentecostal children in America. Previously, the team was nominated for an Emmy for The Boys of Baraka, a film about preteens struggling to make it in Baltimore city. The film was distributed by Thinkfilm and broadcast on the prestigious POV series on PBS. In addiition, Grady has produced and directed numerous nonfiction films for the Discovery Channel, A&E and Britain's Channel 4.
Hilla Medalia
Medalia's first feature documentary, To Die in Jerusalem aired on HBO in 2007. The film looks at the Israeli-Palestinian conflict through the eyes of two mothers who lost their daughters in one deadly act of violence. The documentary follows the efforts of the mother of Rachel Levy, a 17-year-old Israeli student killed in a Jerusalem market bombing, to speak with the mother of Rachel's killer, 18-year-old Palestinian suicide bomber Ayat al-Akhras. In addition to receiving an Emmy nomination for best documentary, To Die in Jerusalem won a 2007 Peabody Award, a 2008 Fipa Special Jury Award, and a Jury Award at the 2008 Human Rights Film Festival in Paris Medalia also served as senior producer of the award-winning documentary 39 Pounds Of Love. The film won the 2005 Ofir Award ("Israeli Oscar") for best documentary and made it onto the Academy Award short list for best documentary film.
Tim Nackashi
Prior to directing Dirty Work, University of Florida alum Tim Nackashi worked as a musician and recording artist, founded an internet design firm, and shot and edited music videos for bands based in Athens, Georgia. In 2000, without any formal training in filmmaking, he and his partner David Sampliner decided to produce a film on the subjects of Dirty Work.
Nackashi and Sampliner completed the film in 2003, and in 2004 it was an official selection at the Sundance Film Festival and several other top film festivals including Full Frame, Hot Springs and Silverdocs. The feature-length documentary was also picked up by the Sundance Channel for distribution
Tim is currently directing his next documentary, set in Atlanta, GA, about people who are immersed in live-action role-playing games. He also works as a documentary editor and film score composer.
Fernanda Rossi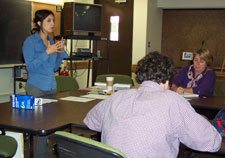 Fernanda Rossi offers students tips on how to put together a trailer.
Fernanda Rossi, writer, filmmaker and script/documentary doctor, helps filmmakers craft the narrative structure of their films in all stages of the filmmaking process. She has worked on over 50 documentary and fiction scripts, among them
Boys to Men
by
Hoop Dream's
co-maker Frederick Marx and the
PBS
documentaries
The Flute Player
by Jocelyn Glazer and
Flag Wars
by Lynda Bryant and Laura Poitras. In addition to private consultations, Rossi gives lectures and seminars nationwide and pens the monthly column "Ask the Doc Doctor" for
Independent Film and Video Monthly
. She is also the author of the book
Trailer Mechanics: A Guide to Making Your Fundraising Trailer
.
Ellen Spiro
Ellen Spiro has directed and produced an extensive body of award-winning documentary work. Her films include Diana's Hair Ego, From Out Here, Roam Sweet Home, and Atomic Ed and the Black Hole. Spiro's work has been broadcast on PBS, HBO, BBC, and CBS. In addition, she has been the recipient of a Guggenheim Fellowship, two Rockefeller Fellowships and a National Endowment for the Arts Fellowship.
Margaret Drain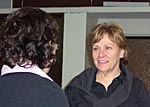 Margaret Drain chats with an Institute student.
Margaret Drain is the executive producer of the acclaimed history series
American Experience
. Under her leadership,
American Experience
has won three Primetime Emmy Awards, (two for Outstanding Non-Fiction Series 1998 and 1999) and the Primetime Emmy Award Outstanding Special for
Scottsboro: An American Tragedy
(2000), four Peabody Awards (for
The Presidents
,
Troublesome Creek: A Midwestern
,
Riding the Rails
and
America 1900
), and the Television Critics Association Award for Outstanding Achievement in News & Information for two consecutive years (1997 and 1998). The series is regularly included in television critics' lists of top programs. Prior to joining American Experience, Drain worked at
CBS
News, where she was a producer for
West 57th
. She also produced with Charles Kuralt on
American Parade
, and with Bill Moyers on
Sunday Morning
.
Mark Jonathan Harris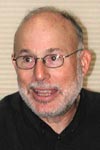 Mark Jonathan Harris
Mark Jonathan Harris is an Academy Award-winning filmmaker and film professor at the University of Southern California. Harris wrote and directed
Into the Arms of Strangers: Stories of the Kindertransport
, a documentary about the efforts to rescue some 10,000 children from Nazi Germany in the days before World War II. Narrated by Judi Dench, the film won the 2000 Academy Award for best feature documentary. He also wrote and directed
The Long Way Home
, the 1997 Academy Award winner for best feature documentary. The film tells the story of the struggle of European Jews trying to reach Palestine, which they hoped would become the new Jewish homeland.
Jan Krawitz
Jan Krawitz has produced and directed documentary films since 1975. Her latest production Little People, a film about the lives of dwarfs, was nominated for an Emmy Award for Outstanding Individual Documentary. Her body of work also includes Drive-In Blues, an exploration of the disappearance of drive-in movie theatres and Mirror, Mirror an examination of female body image. Drive-In Blues was broadcast nationally on PBS and the Discovery Channel and Mirror, Mirror was broadcast on the PBS series P.O.V.
Krawitz is currently a Professor in the Department of Communication at Stanford University where she directs and teaches in the graduate documentary film and video program.
Brett Morgen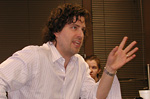 Brett Morgen talks to students about his Academy Award nominated film, On the Ropes.
Brett Morgen's credits include
On the Ropes
which was nominated for an Academy Award in 1999 for Best Documentary feature and won the 1999 Director's Guild of America Award for outstanding Directorial Achievement in Documentary, the 1999
IDA
Achievement Award for Best Feature Documentary of 1999, The Special Jury award and a 1999 Golden Gate award from the San Francisco Film Festival.
Brett Morgen and Nannette Burstein founded Highway films in 1997. The New York based production company produces reality programming for cable and network television as well as feature length theatrical documentaries.
D. A. Pennebaker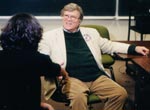 D. A. Pennebaker
D. A. Pennebaker made his filmmaking debut with the 1953 short
Daybreak Express
, an abstract five–minute piece about the Third Avenue L train set to the Duke Ellington song. In the spring of 1959, Pennebaker joined Robert Leacock, Albert Maysles, Terry Filgate, and Robert Drew in a project organized by Drew and backed by Time Inc., designed to use film as a journalistic medium. During the next four years, Drew Associates produced the highly acclaimed "Living Camera" series of documentaries (
PRIMARY
,
ON

THE

POLE
,
JANE
,
CRISIS
) and developed as well, one of the first fully portable 16mm synchronized camera and sound recording systems. In subject matter, the "Living Camera" films varied widely, buy had in common a style and philosophy of film-making known as cinema verite' or direct cinema. Whereas the traditional documentary relied heavily on narration, poetically written if possible, staged events, and re-enactments, the direct cinema documentary covered its story as it was unfolding, containing only footage of actual events, and using only recorded dialogue. In 1964, Pennebaker and Leacock formed their own company, Leacock Pennebaker, Inc. and in the spring of 1965, Albert Grossman, Bob Dylan's manager, approached them with the idea of a film of the singer's forthcoming tour of England. The result was
DON

'T

LOOK

BACK
. Distributed theatrically in 1967, it broke prevailing box-office records for theatrical documentaries.
In 1977, Pennebaker met and began a collaboration with his partner and later his wife, Chris Hegedus. In 1994 their feature-length film, THE WAR ROOM, a behind-the-scenes view of the Clinton Presidential campaign, featuring George Stephanopoulos and James Carville, the two men responsible for the strategy that carried Clinton into the White House, was nominated for an Academy Award and was awarded the prestigious D.W. Griffith Award for Best documentary by the National Board of Review. It is being distributed by October Films.
Recent releases include Startup.com, produced by Pennebaker and Co-directed by Chris Hegedus and Jehane Noujaim, premiered at the 2001 Sundance Film Festival and is being distributed by Artisan Entertainment. The film has won numerous awards including the International Documentary Association Award for Distinguished Feature Film as well as the DGA Award for Outstanding Directorial Achievement in Documentaries. Pennebaker's most recent release, ONLY THE STRONG SURVIVE follows many of the legendary Rhythm and Blues performers including Isaac Hayes, Rufus and Carla Thomas, Wilson Pickett, and Sam Moore.
Michael Rubbo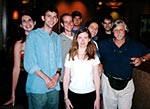 Renowned filmmaker Michael Rubbo (far right) and students.
Michael Rubbo served as director for the National Film Board of Canada for 25 years and has directed over 30 award-winning films, including
Sad Song of Yellow Skin
,
Waiting for Fidel
,
Solzhenitsyn's Children
and
Daisy: Story of a Facelift
. He also produced the Emmy Award-winning children's film
Vincent and Me
.
Nina Gilden Seavey
Nina Gilden Seavey is founder and director of the Center for History in the Media at The George Washington University. In 1990 she teamed up with Academy Award winning filmmaker Paul Wagner to produce the Discovery Channel special, The Battle of the Alamo. Seavey and Wagner paired up again in 1994 to produce Paralyzing Fear: The Story of Polio. The program, funded by the National Endowment for the Humanities, aired nationally on PBS in 1998.
Michael Trinklein
Micheal Trinklein and his partner Steve Boettcher produced The Oregon Trail, which aired nationally on PBS stations in 1995, and The Gold Rush, which aired nationally on PBS in 1998. Trinklein is a professor of film at Idaho State University.