Freedom Never Dies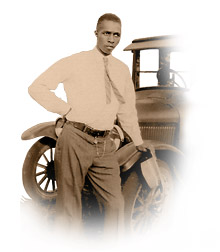 In 1951 after celebrating Christmas Day, civil rights activist Harry T. Moore and his wife Harriette retired to bed in their white frame house tucked inside a small orange grove in Mims, Florida. Ten minutes later, a bomb shattered their house, their lives and any notions that the south's post-war transition to racial equality would be a smooth one. Harry Moore died that night, his wife nine days later.
Freedom Never Dies: The Legacy of Harry T. Moore explores the life and times of this enigmatic leader, a distinguished school teacher whose passionate crusade for equal rights could not be discouraged by either the white power structure or the more cautious factions of his own movement. Although Moore's assassination was an international cause celebre in 1951, it was overshadowed by following events and eventually almost forgotten.
Freedom Never Dies: The Legacy of Harry T. Moore, restores Moore to his rightful place in the Civil Rights saga.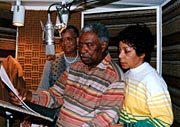 Harry Moore's daughter Evangeline (far left) looks on as Ossie Davis and Ruby Dee prepare to cut narration for "Freedom Never Dies."
Narrated by Ossie Davis and Ruby Dee.
Sweet Honey in the Rock and Toshi Reagon perform original music.
Comments and Reviews
"...this fine documentary pays homage to a deserving American hero."—Brian Murphy, George magazine
"...the life and death of Harry T. Moore have been largely forgotten, upstaged by later assassinations and agendas. This insightful documentary works to right that wrong."—Barbara Phillips, Wall Street Journal
"A powerful PBS documentary pulls activist Harry T. Moore from the shadows of history and gives him his due."—Hal Bodeker, Orlando Sentinel
"Florida's dark past is detailed in this beautifully filmed, sobering and deeply moving profile."—GIST-TV
"Harry T. Moore, the first civil rights leader to be assassinated, has regained his place among the martyrs of the time in an eye-opening documentary." —Black TV Network
DVD/VHS availability
Freedom Never Dies is now being distributed through Documentary Educational Resources.
PBS Web Site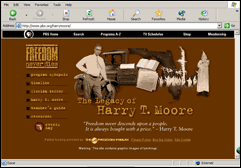 To learn more about Freedom Never Dies, visit the Web site at www.pbs.org/harrymoore.
Institute Productions
Student Productions