Negroes With Guns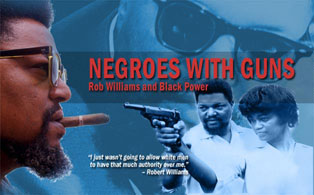 Taken from the title of Robert Williams' 1962 manifesto entitled Negroes With Guns, this film tells the wrenching story of the now forgotten civil rights activist who dared to challenge not only the Klan-dominated establishment of his small North Carolina town but also the non-violence-advocating leadership of the mainstream Civil Rights movement. Williams, who had witnessed countless acts of brutality against his neighbors, dared to give public expression to the private philosophy of many African Americans—that armed self defense was not only a practical matter of survival but also an honorable position, particularly in the violent, racist heart of the deep South. Featuring a jazz score by Terence Blanchard (Barbershop, the films of Spike Lee), Negroes With Guns combines modern-day interviews with rare archival news footage and interviews to tell the story of Williams, the forefather of the Black Power movement and a fascinating, complex man who played a pivotal role in the struggle for respect, dignity and equality for all Americans.
"I advocated violent self-defense because I don't really think you can have a defense against violent racists and against terrorists unless you are prepared to meet violence with violence and my policy was to meet violence with violence." – Robert Williams
Negroes With Guns is not only an incisive look at a truly fascinating man but also a thought-provoking examination of our notions of patriotism and the acceptable limits of dissent.
Featured in the New York Times.
Now available on DVD from California Newsreel.
Institute Productions
Student Productions