2004 Graduating Class
In the Pit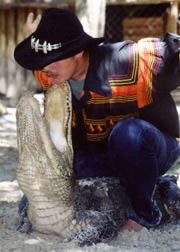 In the Pit brings you the story of Skeet, the weathered 55-year-old owner of Native Village, a tourist attraction in Hollywood, Florida, and Jimmy, his 18-year-old protégé who wants nothing more than to follow in Skeet's footsteps. For the past five years, Skeet has taught Jimmy the arts of alligator wrestling and snake charming as well as the responsibilities that come with the running of a small zoo.
In the Pit explores the relationship between the world-weary Skeet and the optimistic Jimmy as the young man grapples with gators and the question of what to do with his future.
Co-directed by Sean Lewis and Lenina Ulrey
Buried in the Backyard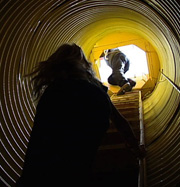 The backyard bomb shelter has become a relic worthy of a second look.
Since the September 11 terrorist attacks, American preoccupation with personal security has reached proportions not seen since the Cold War. Now there is a new host of fears: from biological weapons to terrorist attacks and nuclear strikes from rogue nations like North Korea. In 2003, the Wall Street Journal reported that bomb shelters were more prevalent now than during the Cold War, but is this really true? Has the bomb shelter reached the mainstream, or just a wider swath of the lunatic fringe?
Buried in the Backyard journeys through the diversity of present-day bomb shelter builders, meeting a colorful collection of characters along the way as this 30-minute documentary unfolds. The movie traverses the American landscape, from Michigan to Massachusetts, and Georgia to Utah, offering glimpses into a little-seen, sometimes festering and funky interior.
The faces of the characters we meet along the way and the details of their lives and preparations provide a compelling portrait of Americans facing their fears at the dawn of the twenty-first century.
Co-directed by Monica Bigler and Sarah Prior
View the trailer
» Visit BombShelterMovie.com »
Miss Lil's Camp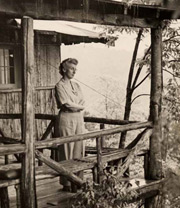 Miss Lil's Camp is a story about an exclusive summer girls' camp in Georgia and its director, Lillian Smith. Miss Lil, as the campers called her, taught privileged young women in the Jim Crow South that segregation was evil. Some young campers were repulsed by Miss Lil's ideas while others embraced them.
In Miss Lil's Camp, we meet three former campers and a former camp employee who return to Laurel Falls Camp in Clayton, Georgia in October 2003. Through the memories of these women and rare archival footage, Laurel Falls camp and Lillian Smith are brought back to life.
Co-directed by Suzanne Niedland and Anberin Pasha
Institute Productions
Student Productions